Details:
SZ serial vacuum pump is specially designed by our company for plastic extrusion equipment. It with outstanding features of compact structure, easy installation, large suction speed, high vacuum degree and low energy consumption. Compared with 2BV serial vacuum pump in the market, it can be used by reducing one power grade. As a result, the energy consumption is greatly saved.
The high-quality stainless impeller is used for this serial vacuum pump. Besides, the anti-scale treatment with special technology is implemented for pump inner chamber and equipped with the high-quality mechanical seal which is jointly developed by Sino-British joint venture enterprise and us. As a result, the service life of vacuum pump is greatly extended.
This serial vacuum pump is the preferred product for plastic extrusion equipment including plastic pipe, profiles, wood-plastic and plastic granulation etc. it is also widely applied into many industries such as: food and pharmacy etc.
Technical Parameter:
Model

抽气速率

Suction Speed (m³/h)

极限真空

Ultimate vacuum (Pa)

配用功率

Power

(kW)

转速

Speed

(r/min)

补充水量

Supplied water

(m³/h)

配用电机

Motor equipped

机组重量

Weight

(kg)

SZ-0.3

20

4000

0.75

2820

0.20

Y801-2

32

SZ-0.8

40

1.5

2840

0.23

Y90S-2

40

SZ-1

60

2.2

2840

0.25

Y90L-2

55

SZ-1.5

90

3.0

2870

0.35

Y100L-2

65

SZ-2

120

4.0

2890

0.45

Y112M-2

80

SZ-3A

180

5.5

1440

0.40

Y132S1-4

110

SZ-4.5

270

7.5

1440

0.6

Y132M-4

150

SZ-6

360

11

1460

1.20

Y160M-4

207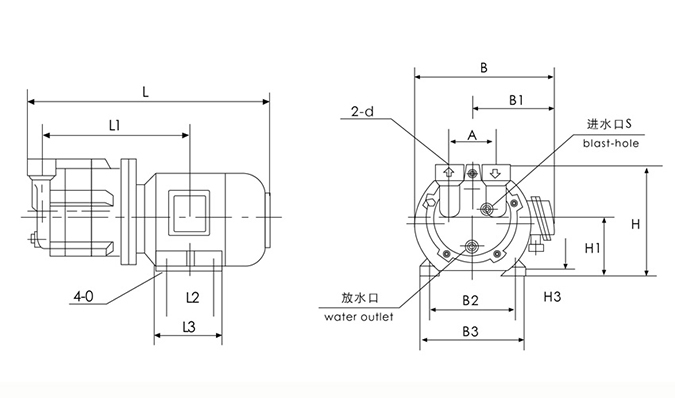 Model

A

L

L1

L2

L3

B

B1

B2

B3

H

H1

H3

d

S

φ

SZ-0.3

80

414

233

100

134

255

155

125

164

184

80

12

G1″

G1/2″

10

SZ-0.8

80

442

260

100

130

255

155

140

180

194

90

12

G1″

10

SZ-1

80

492

290

125

160

255

155

140

180

194

90

12

G1″

10

SZ-1.5

110

519

293

140

180

305

180

160

205

217

100

15

G11/2″

12

SZ-2

110

563

327

140

180

315

190

190

245

237

112

15

G11/2″

12

SZ-3A

160

640

364

140

205

370

210

216

280

320

132

18

G2″

12

SZ-4.5

160

710

384

178

240

370

210

216

280

320

132

18

G2″

12

SZ-6

190

822

463

210

275

455

255

254

330

412

160

22

法兰式/ flange

4-φ14

φ130

19